Our employees' expertise and various trades cover the entire value chain: they design, manufacture and distribute our wide range of products and services in the area of blood-based diagnosis using state-of-the-art technologies and providing the best care to patients. The development of our corporate culture is driven by five engaging values.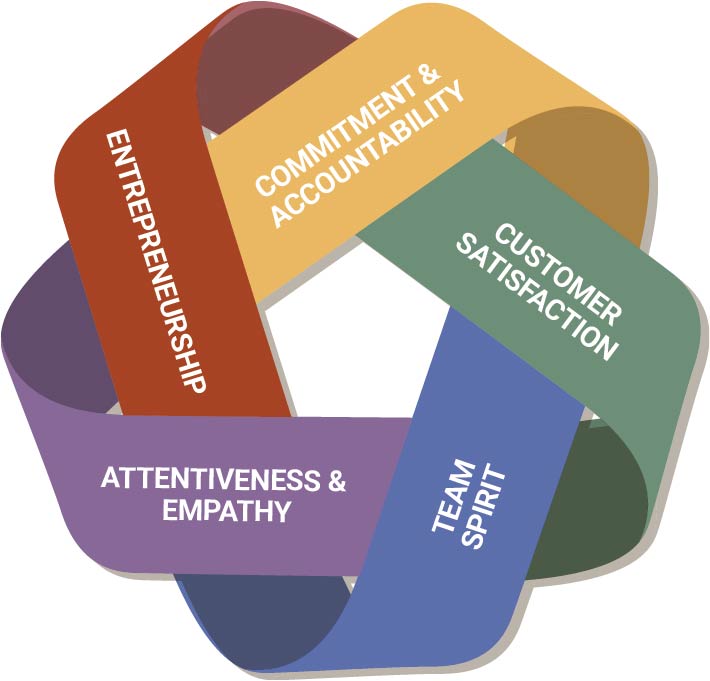 With over 60 years of experience, Stago today is recognised by the international scientific community as an essential contributor to in vitro diagnostics. Its development has always been guided by its entrepreneurial spirit combining intuition, a sense of initiative, responsible risk-taking and a long-term vision. Three specific features illustrate this value:
market leader as a private and independent company;
early international development, now directly working with 19 countries and distributed in over 110 countries;
a "business developer" soul guiding takeovers and forging targeted partnerships to strengthen and expand its expertise and positioning.
From R&D to the medical test laboratory, our entire value chain, combined with expertise and multidisciplinary teams, works for the benefit of the customer. With over 40,000 installed systems, Stago has built a comprehensive range of services involving all our teams. Customer satisfaction, in turn, is a fundamental value upon which Stago was built. It relies on its employees' ability to listen, understand, take action and advise. Our main goal is to prevent any disruption to the laboratory business flow; a Stago test result might sometimes be absolutely essential for clinicians to make the right decision for their patient. Customer satisfaction also applies internally, as we strive to provide tailored support to each employee.
Our multidisciplinary teams of engineers, researchers and technicians form a vast pool skills and expertise that work hand in hand, collaborating to produce the best. Attentive to our customers' needs, they develop and produce smart and increasingly efficient ranges of products and services. This value also applies in the field: without team spirit and well-structured cooperation between sales, marketing and support services teams, customer satisfaction would not be reached.
Internally, teams are also frequently cross-functional, in a continuous improvement approach. The work environment also fosters team spirit which contributes to each employee's individual progress.
Attentiveness and Empathy
Stago has been involved in healthcare since its inception, and has always seen ethics as crucial to its work. Helping improve therapeutic patient care is a long-term cornerstone commitment shared by all.  To reach this goal, we need to develop our attentiveness skills and be empathetic with our different customers and partners. Internally, this also means showing respect for others in their diversity so that everyone can work in an open environment conducive to recognition of their work and development.
Commitment and Accountability
As a renowned player in the IVD industry, Stago has managed to develop valuable relationships in academia and the pharmaceutical research area. The scientific community trusts that Stago will transformits medical progress into standardised and automated tests, because it recognises our commitment and sense of accountability. This value also applies to our customers and partners who know they can count on our company as it is transparent in what it says and what it does. The same is true internally by setting clear, realistic and shared objectives, with everyone shouldering their level of accountability. In the same vain, our vision which guides us - To be a reference for blood-based diagnosis to improve the health of as many people as possible and our goal To improve customized patient care with effective biotechnology solutions for blood-based diagnosis remain humble, sustainable and achievable.